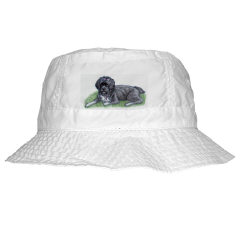 Great for a day on the beach or around town, our all-weather microfiber bucket hats are stylish and water resistant. All hats are reversible with navy blue interior. Image size: 5 x 2 inches.
Sizes: Small/Medium, Large/XLarge
$ 16.95
Can be imprinted with your own pet's portrait or with any one of our gallery portraits.
CLICK HERE TO RETURN TO GIFTS MENU